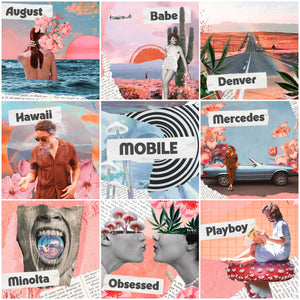 ✿ MOBILE PACK ONLY ✿
This preset pack comes with eight total mobile presets for the Lightroom CC app. These presets were created using natural light in Hawaii and Denver with inspiration of film, the 70's, and the 90's naturally sprinkled in every preset.
✿ WHAT YOU'LL NEED ✿

Lightroom Mobile app

A way to unzip files from your phone (iPhone users can use iZip, Android users can use WinZip)
✿ INSTALLING YOUR PRESETS ✿
Your mobile presets will come to you as DNG files, and here are detailed instructions with screenshots and a video on how to get them from your download and ready to use in your Lightroom Mobile app without having to use a computer! 
✿ KEEP IN MIND ✿
No preset is a one-click solution for 100% of every single photographer's images, but chances are you know that already! Depending on your lighting, white balance, etc. there's a good chance you'll want and/or need to tweak the basic settings for exposure/temperature.
✿✿✿ The mobile packs of the presets can only be used for mobile devices while the desktop pack can be used for both your computers and your mobile devices, so make sure you're downloading the correct one you want when you're checking out! Since each of the preset packs are an instant digital download, we cannot offer any refunds or exchanges. ✿✿✿